Eira hospital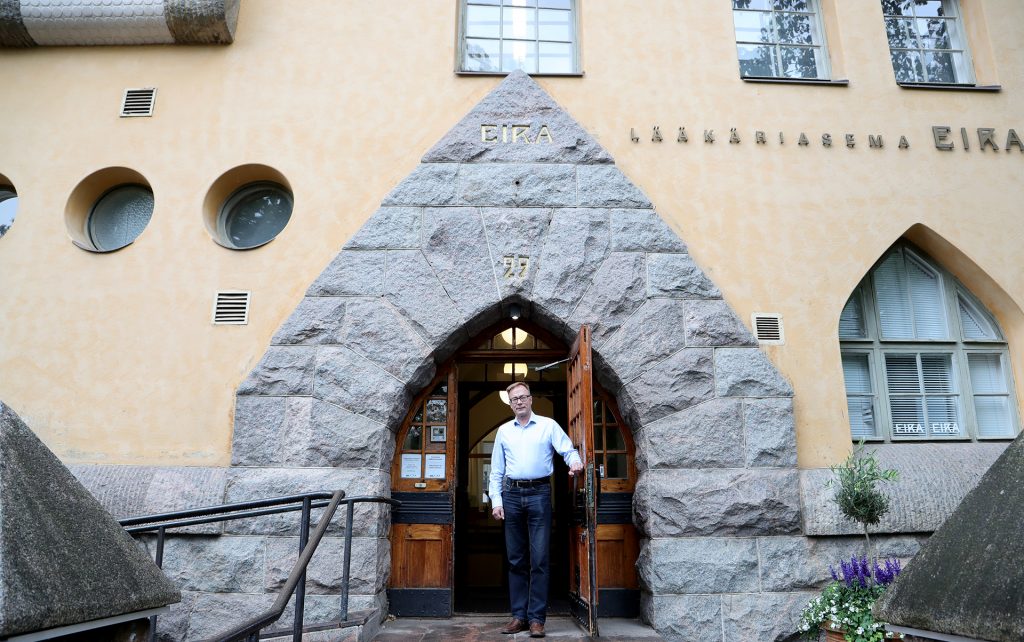 Eira Hospital is located in an Art Nouveau building that is over 100 years old. The property is maintained by its own maintenance technician, who is known by the entire staff. "This is the model that works best for us," says Hannu Hänninen, Director, Hospital Facilities and Engineering. Tomi Natri
Eira Hospital is one of Helsingin Kiinteistötekniikka's more diverse property maintenance sites. Aside from the fact that the hospital is located in a century-old Art Nouveau building, strict property maintenance requirements are set by special functions related to the hospital's infrastructure. "It takes years to learn about the building's practices, how processes work here. The model that works best for us is our own maintenance technician, known by the entire staff," says Hannu Hänninen, Director, Hospital Facilities and Engineering.
In 1904, a group of doctors decided to establish a modern and cosy private hospital that would not resemble a traditional hospital. A beautiful hospital building, designed in the National Romantic style by Lars Sonck, was completed in 1905 at the corner of Tehtaankatu and Laivurinkatu – Eira Hospital, after which the neighbouring city district was named.
Over 110 years later, Eira Hospital is still based in the same building. The location still has a cosy and modern feel. Its revered history is reflected in the way that hospital staff feel about the property.
"Eira Hospital is a well-known building to residents of Helsinki. We want to keep the property in the best possible and tidy condition, which sets the bar extra high for maintenance services," says Hannu Hänninen, Director, Hospital Facilities and Engineering.
A resident janitor was in charge of property maintenance for a long time
"We still had our own janitor, who was part of the staff, just over ten years ago. We originally had a janitor's flat."
The hospital has always taken it for granted that the property should be maintained by a familiar face.
Helsingin Kiinteistötekniikka is now in charge of property maintenance at Eira Hospital. The operating model was built in line with the idea of a traditional janitor. The hospital's own maintenance technician is continuously available at the site during afternoons.
Over the years, the maintenance technician has become a familiar face to all staff.
"The maintenance technician is the person that staff contact if a tap is leaking, a door handle is loose, or a mirror needs to be mounted on a wall. Requests are presented directly, without bureaucracy. If a plumber or electrician is needed, the maintenance technician calls in the required external services independently."

"Deep familiarity with the site is required due to the hospital's wide range of facilities," says Hannu Hänninen of Eira Hospital. Picture: Tomi Natri
A challenging hospital infrastructure
Working in a hospital environment requires deep familiarity with the site, as well as technical expertise. The 'job description' includes a lot of hospital infrastructure maintenance, which has to be done on the hospital's terms.
"Here, you have to find out for yourself when it's okay to enter a certain room. You have to know when the room is free or when it will become free, so that you can enter it. Another issue is the requirement for silence. For example, drilling into a brick wall could disturb ongoing surgery. It takes years to learn about the building's practices, how processes work here."
Hänninen also points out how important it is for patients to have a familiar maintenance technician at the hospital who blends in with the staff and, if necessary, can chat with and guide patients.
Hänninen is delighted with the hospital's cooperation with Helsingin Kiinteistötekniikka.
"Having our own maintenance technician is the model that works best for us. Work is more productive when time is not spent clarifying the basic issues. Jobs are smoothly and quickly done. I would recommend Helsingin Kiinteistötekniikka to other properties requiring special maintenance services," he adds.